Abundance Ritual Dance Activation (Online)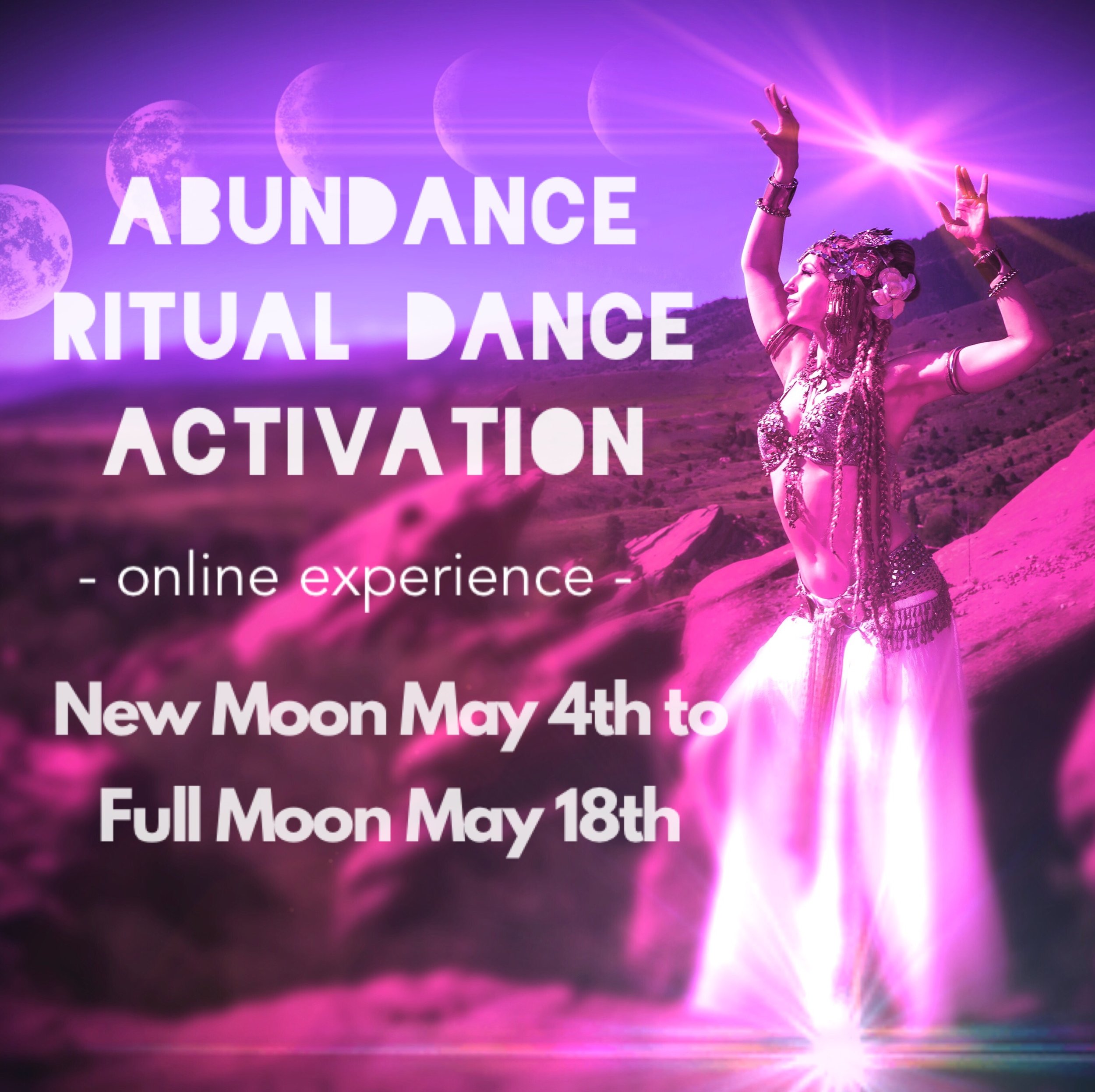 Abundance Ritual Dance Activation (Online)
Join Me Sacred Sisters for a lunar aligned experience of embodied AbunDance magic!
This is an online experience, you can join from anywhere!
As we dance ourselves into the vibrantly succulent energies of late Spring it is the PERFECT TIME to blossom open and commune with the ever-present source of plenitude that is nature Herself.

We will gather together from New Moon Weekend May 4th to Full Moon Weekend May19th.
We will be aligning ourselves with the potency of the Beltane Tides: the season to celebrate light, passion, abundance, creativity, fertility and the ripe and rich blessings of life, along with the new to full waxing moon energies: growing into fullness, radiance, bright expression, magnification and manifestation!
Over the two ritual weeks we will be working deep, powerful (and fun) abundance magic with the intention to:
Affirm the prosperous nature of the Universe

Cultivate a sense of Grace, Generosity and Gratitude (all essential elements in experiencing Abundance)

Honor our Worthiness

Blossom open into a space of attraction and allowance

Fully and Freely Embody our Beauty and Bliss

Open to RECIEVE

Activate our powers of magnetic manifestation

Tune into the frequencies of fulfillment, contentment and prosperity,
We will share in many lovely processes and practices through the two ritual weeks with the main focus being our ***ABUNDANCE RITUAL DANCE***
This Dance Ritual draws much of its form from ancient women's dance, temple arts and yogic lineages, all married with my own intuitive sacred dance vocabulary and archetypal Goddess embodiment exploration. Each movement and motion is filled with intention and meaning, affirming and activating the prosperous nature of the Universe! When our clear and focused intentions are supported by the miraculous energy of our embodiment channeled into sacred symbolic dance movement, we can touch and taste the Divinity of our Full Presence and access our powers of womanifestation. We will quite literally MOVE our way out of our heads (where fear, doubt and any sense of lack or dissatisfaction can often reside) into our woman's wisdom bodies where we will enLIVEn and enRICH ourselves on a cellular level. We will learn the dance ritual over the course of the two weeks with the goal to have it completely ready to dance it in its fullness on the Full Moon as the Crowning Ritual of this two week experience. The dance instruction is delivered clear and easy to follow in video format.
In addition to the Abundance Ritual Dance Choreography Video you will also receive:
Love Bubble audio meditation

PDF guidebook for the two week experience

Daily affirmations

Daily Abundance Goddess wisdom and inspiration

Guidance on creating your own ritual practices, affirmations and processes

Opening and closing ritual circle calls

Synergistic support in our sisterhoods online forum,
Not only is this two week experience and the dance itself transformational ritual magic but this will also support you on your sacred embodiment path as you explore the rich realms of conscious ceremonial dance practice. You will learn to weave intention into embodied sequences and honor your body and your dance as the powerful ritual tool IT IS!!
As women, it is our natural tendency to honor the sacred. A Ritual is a way to cultivate awareness and direct intentional energy to commune and connect with a specific aspect of our lives. Ritual and ceremony have been done since the beginning of time and offer us a chance to attune more deeply to the sacredness of our life and the cycles that flow through them. Through focused intention and symbolic action, a ritual/ceremony offers us the opportunity to access our innate power, step into rhythm with the cosmic spiral dance and create positive transformation, moving into a more uplifted and connected state of being. A Dance Ritual takes this one step further, by accessing and directing the potent creative energy of our Body Temples, we open up the portals to have a truly alchemical Mind~Body~Spirit experience.
$111.00 for the two week experience and all ritual materials.
On Beltane (May 1st) you will be e-mailed links to all materials and our secret group.
To get the most out of this experience you will want to allot 30 minutes a day for the two weeks to take part in the processes and practices.
ALL MATERIALS ARE DELIVERED THROUGH ONLINE MEDIA (Video's Audios, PDF's, you learn the dance and do the materials in your own space and own time throughout the two weeks and we meet in our secret group for shared support and inspiration.
This Dance Ritual is appropriate for all levels. If after this two week experience you desire to share this Dance Ritual as a Priestess Offering into your community, you must seek my (Sedona's) blessings and perhaps continue to work with me to make sure the Ritual is going out into the world in the highest of integrity. I permit small video clips (under 30 seconds) to be shared on Social Media of your process but I do not give permission for the full dance to be shared online publicly,. We can freely share our videos and our process amongst our sister circle in our private online group.